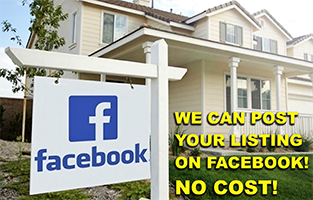 We will post your listings to
Facebook

for FREE!

Just send an email to

socialmedia@nextlisting.com

to request your Next Listing photos posted to your Facebook page. Please provide the MLS#.
Requirements
Service is provided to Next Listing Members and the photos must have been photographed by Next Listing within the last 30 days.
What if I don't have a Facebook page?
We can help you get started on Facebook by offering you one of our social media plans. If your are interested, see our available social media plans
here
.